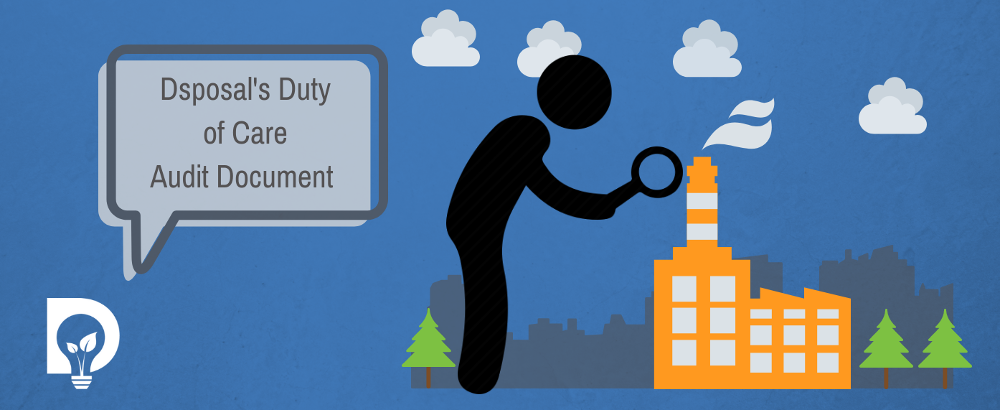 A Duty of Care Audit is where an organisation checks on a waste management contractor to meet their duties imposed under section 34 of the Environmental Protection Act 1990. A breach of the duty of care could lead to a conviction.
As an organisation you need to take whatever steps are reasonable to:
prevent waste from escaping
provide a written description of the waste
transfer waste only to authorised persons
What is the Waste Duty of Care?
The Waste Duty of Care is a bit of law that states that everybody is responsible for their rubbish. It's there to make sure that human health and the environment is protected. The way it works is that by making everybody along the chain responsible for the waste it means that everybody will care where it ends up. Failure to comply is an offence subject to an unlimited fine if convicted.
Before You Start
There are a couple of things to know before starting this section:
Dsposal is a web-based application that works in most web browsers, which means you don't need to download or install any software on your computer. To be sure Dsposal works properly your web browser needs to meet our requirements.
While you can use do an audit for free you need to have either a licensed or unlicensed site. To claim a licensed site follow the steps in the article called How to Claim My Business on Dsposal or to set up an unlicensed site then have a read of the article with title Creating an Unlicensed Site.
Dsposal's Duty of Care Document
Doing a Duty of Care Audit is essential. Dsposal helps you by creating an easy to use document that you can use to audit your waste management contractors. As with the rest of the Dsposal software it can be used on a smart phone, tablet, laptop or desktop computer.
This Duty of Care document is semi-populated by the data held on the Dsposal platform. The more information that your contractor has on Dsposal, the quicker and easier it is for you to complete.
To access the Duty of Care Document head to your dashboard, click on documents on the menu bar and click the button "Do an Audit".
Site Details
Choose a site to perform an audit on. The drop-down box is split into three separate sections:
Not Listed i.e. a completely blank form if the waste site isn't on Dsposal
Premium Sites i.e. waste sites that are paying to use Dsposal and will have several different documents
Limited Sites i.e. waste sites that are using Dsposal for free that only have a limited number of documents
If a premium or limited site is chosen, then Dsposal will populate the available fields.
Complete the information detailing which type of services this site offers you.
Health & Safety, Environmental, Quality and Conviction Information
If the following documents are populated on Dsposal and in-date, then the fields will be populated:
Quality Policy
Quality Management System
Health & Safety Policy
Health & Safety Management System
Environmental Policy
Environmental Management System
Other information will need to be populated manually.
Waste Management Licences, PPC Permits and Exemptions
In this step you will need to add the various licences against the site.
If their licences are claimed and on Dsposal you will be able to add all their licences, permits and exemptions. Other licences can be added by pressing "Add another licence" adding the details and pressing "Save Licence".
Waste Management Procedures
All the information in this step needs to be populated manually.
Emissions & Monitoring
All the information in this step needs to be populated manually.
Transport & Fleet
If the site has a valid in-date Vehicle Operator's Licence, then this will be marked as Yes and some of the fields populated. Other need to be filled in manually.
If the site has a valid Motor & Fleet Document then this will be populated.
The final declarations are locked to this current user and today's date.
Press Save to save and exit. An expiry date for in a year's time will be added to the document.
Viewing Completed Audits
By navigating to Documents and either sorting by or searching for audits you will be able to view completed audits.
This allows viewing the five sections and will provide links to the documents if they are found on Dsposal:
Details
Certification
Waste Management
Emissions
Transport
The completed audit can also be printed.