Dsposal helps everybody map their rubbish journey! Using the Waste Chain helps anybody with waste plot out their waste routes by allowing you to link up different followed claimed and unclaimed profiles to your own company sites.
In this article, you'll learn what how to use Dsposal's Waste Chain.
Before You Start
Here are some things to know before you begin this process.
Both claimed and unclaimed followed sites can be seen on the waste chain.
All user types can see the waste chain (both admins and users).
The Waste Chain and internet explorer are not fully compatible (yet!). Use a compatible web browser.
Why create a waste chain?
Dsposal's waste chain tool helps you visualise your rubbish pathway from creation (at your site) to its last and final point (terminal step) to help you meet your duty of care. This tool can be used by everybody to prevent the escape of their waste from their control and to show due diligence in following and adhering to your legal obligations to the Environment Protection Act. Plus, it's actually fun to build and join the connections.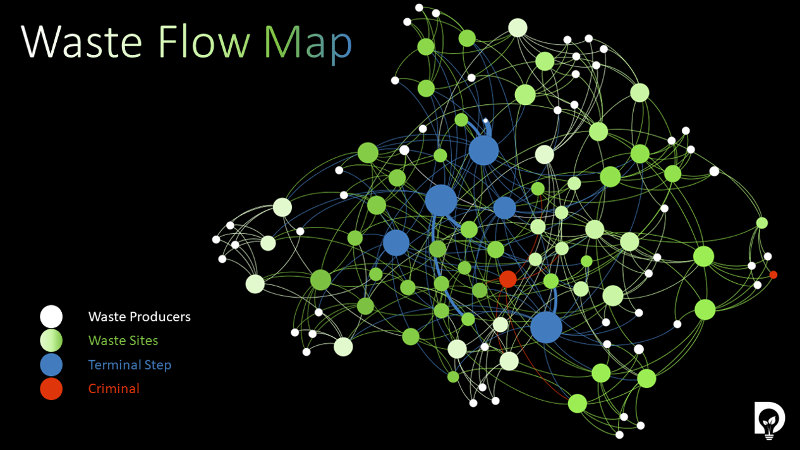 Create a company licensed or unlicensed site
First things first, we have had to make a few assumptions and there is some Dsposal jargon we need to set straight.
We call everything a Company, be it charity, scout group or the Palace of Westminster. It doesn't mean business company in Dsposal, it is the top-level organisation account.
Below this top-level organisation account we have two types of site profiles on Dsposal:
Licensed Site. These are geographical locations that have a waste management licence to interact with waste. These could be a skip company, a transfer site or a landfill site. If you are wanting to set up this kind of profile site, then read the article called Getting Started as a Waste Company.
Unlicensed Site. This is for everything else. It could be a charity, scout group, barbers, council office, university or the Palace of Westminster. If this is what you are looking to set up, then read the article called Creating an Unlicensed Site.
The first time you create a site it will automatically create an organisation account.  You can then change and update this in the Sites tab in the Dashboard.
Follow a waste site profile
Following site profiles in Dsposal helps you stay compliant effortlessly.
By following a waste profile, you will receive notifications of when their documents are coming up for renewal, when they have expired and when they are updated. Follow all the companies you use to stay informed.
Every site profile has a Follow button. By following a site, be it a claimed or unclaimed profile, this adds it to your waste chain.
To learn more about following, read the article How and Why to Follow a Waste Site Profile.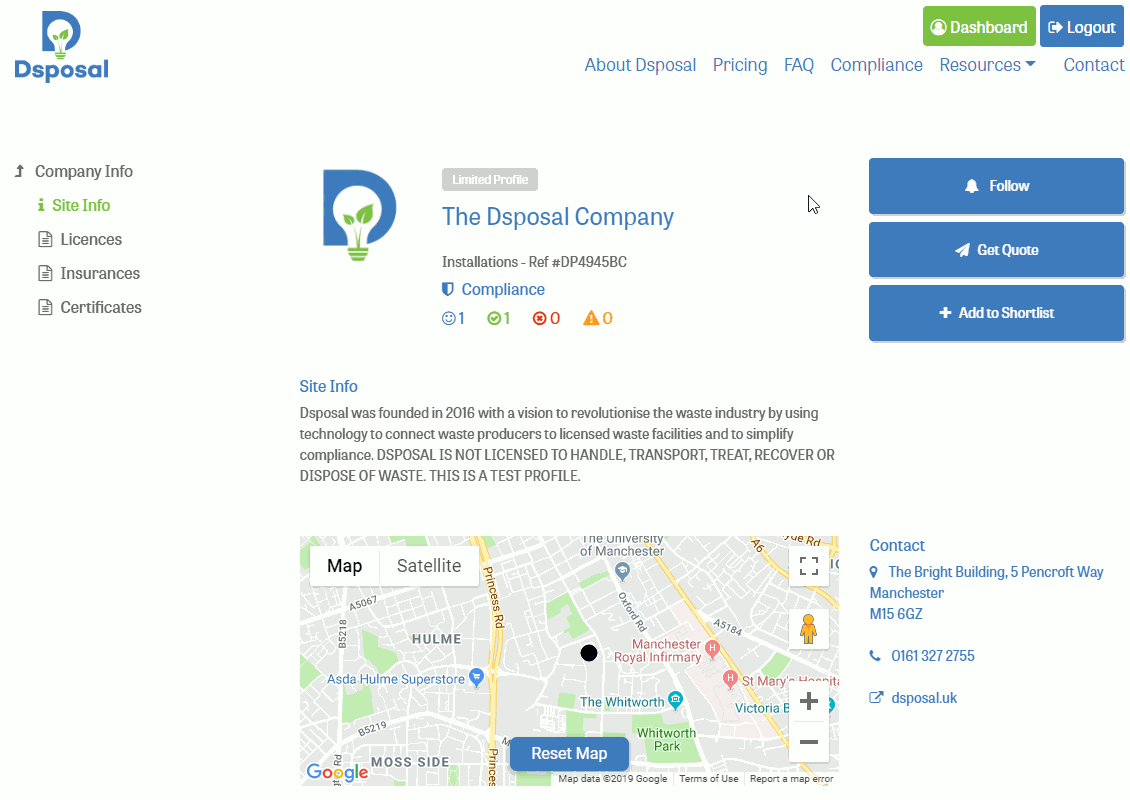 Creating a waste chain
Once you have a site and a few followed profiles you can create a waste chain. Here is how to do it:
Navigate to your Dashboard and choose Followed Sites from the sidebar
Press on Waste Chain
This will open the waste chain canvas
The waste chain canvas has a number of items that we need to point out.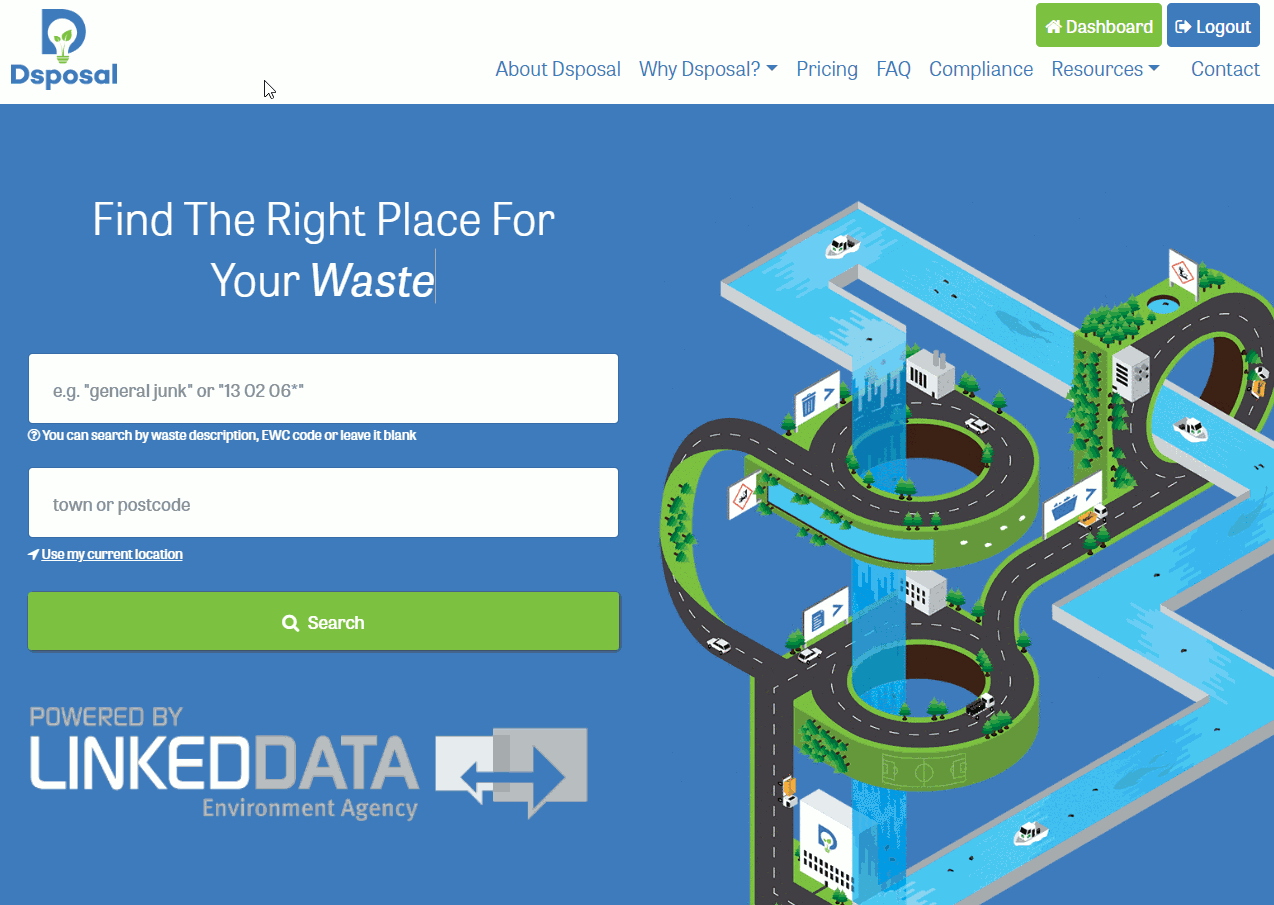 Getting familiar with the waste chain canvas
Each one of your sites will be displayed. Each site you follow will be displayed.
On the bottom right of the canvas are some buttons:
Fit sites to canvas
Zoom in
Zoom out
On the bottom left of the canvas the buttons are:
Pan Up
Pan Down
Pan Left
Pan Right
You can also use a mouse or track pad to navigate the waste chain canvas.
The waste chain map uses a computer algorithm to keep the sites separate and to make labels readable.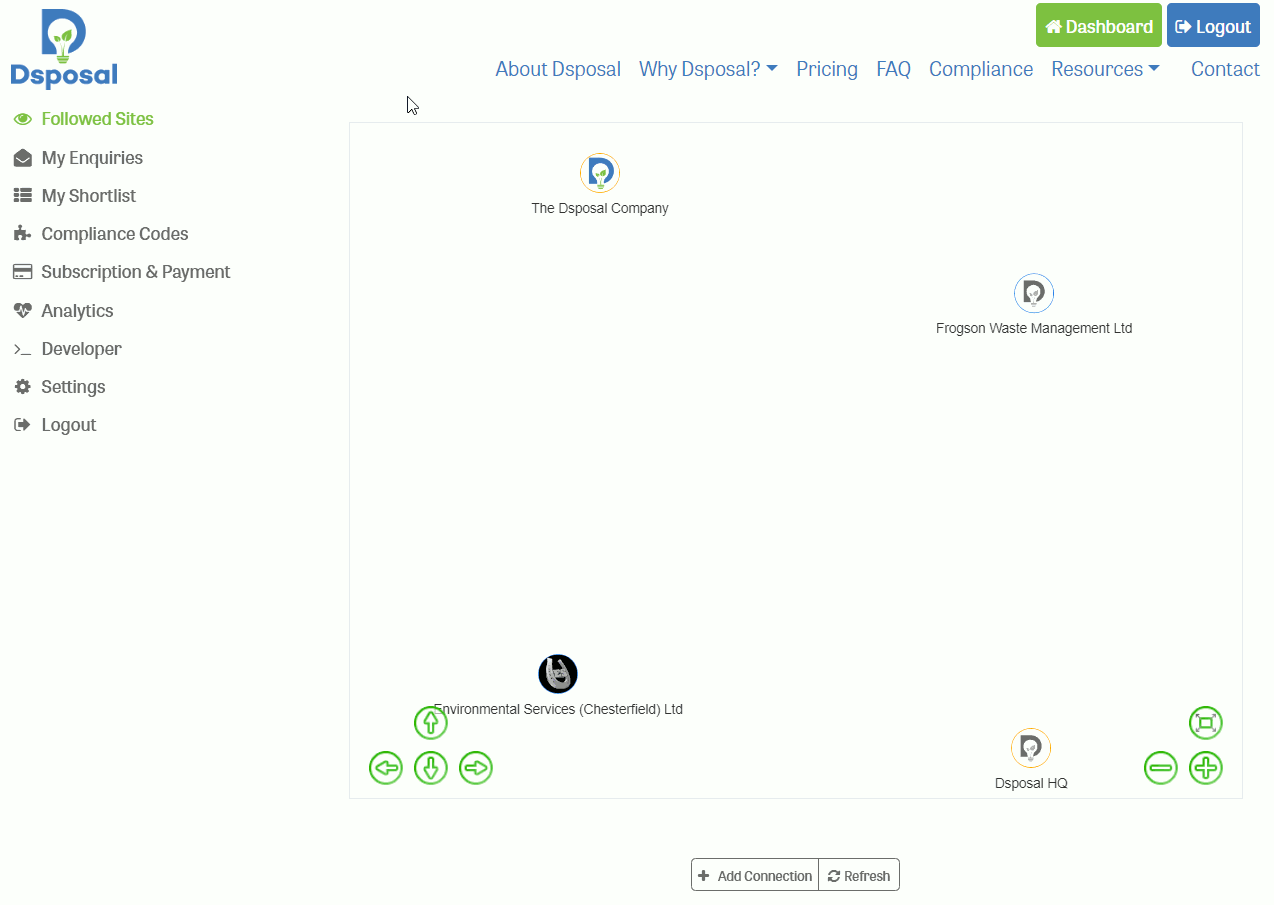 Getting familiar with the site nodes
Each circle is a site (or a node). You can move then around by clicking and dragging them around the canvas.
Each node uses the sites logo. If there is no logo for the site it will appear as a grey Dsposal D logo.
By double clicking a site node a information pane will appear to give you additional information about this site.
Depending on the type of site when you double click different options will appear.
For your unlicensed sites you are can only "Do an audit"
For your licensed sites you can:
View the site profile on Dsposal
Do an Audit
For unclaimed sites you follow you can:
Invite to Dsposal
Unfollow
View the site profile on Dsposal
Audit the Site
And finally, for claimed site you follow you are able to:
Unfollow
View the site profile on Dsposal
Start a site audit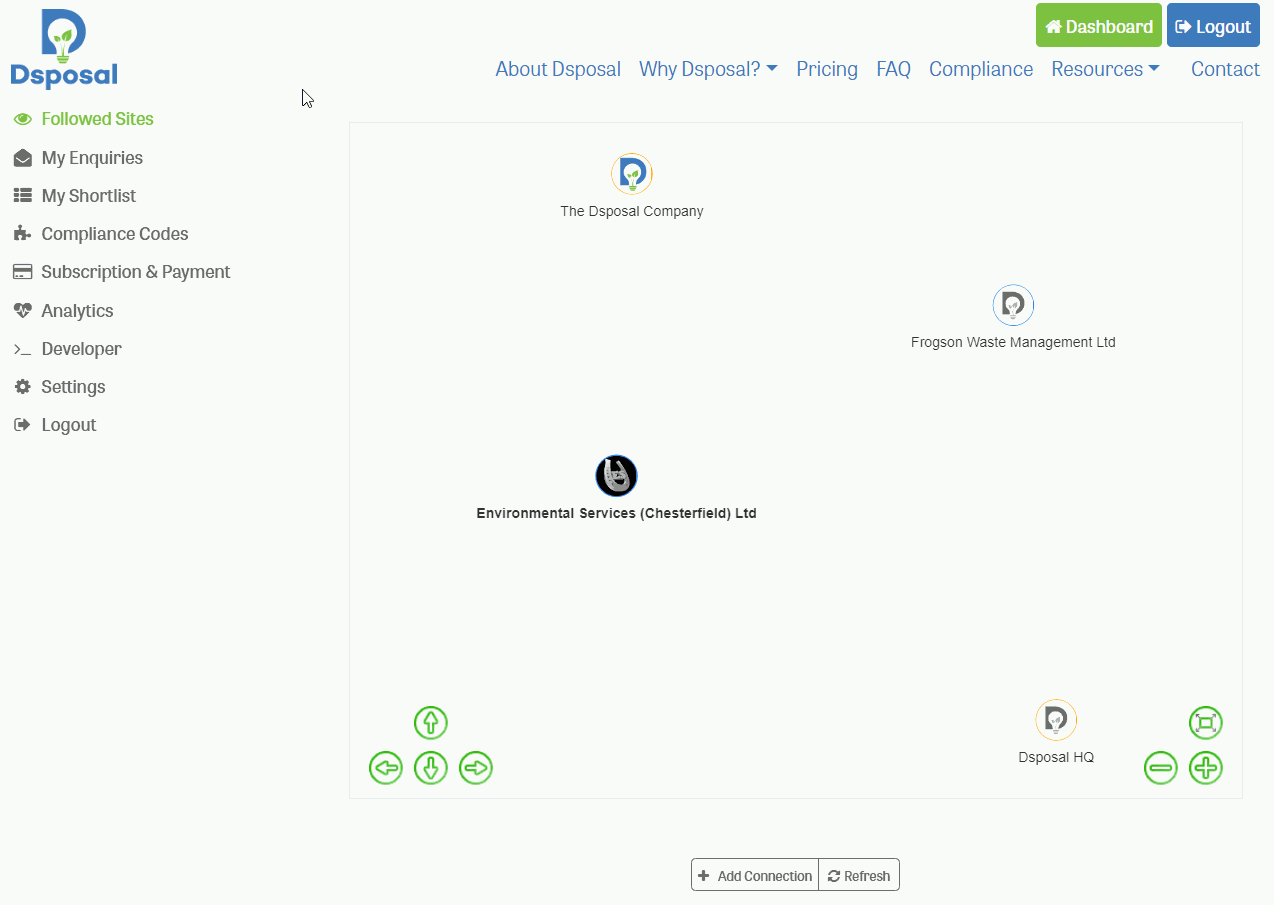 Create the links in the waste chain
To link the sites up press the Add Connection (or you can double click in the white space). This will enable to Connection Mode. To create the connection (or edge) drag and drop your pointer from one site to another to create a connection.
Once a connection has been made the Add Connection box will appear.
This will show a Google Map route from the first site (Origin) to the second site (Destination). Below this you will need to input the Waste Description and EWC Codes for this waste.
If the first site is one of your unlicensed or licensed sites, then the Origin Site box will be greyed out and you will not be able to choose. If, however, you are mapping secondary or tertiary movements then you can choose the site that the waste originated from.
You can add as many connections between sites as you wish.
Once a connection has been made, they can be deleted and edited. Click on a connection and choose Edit Connection or Delete Connection from the options menu underneath the waste chain canvas.