Covid-19 seems to have caused us all to become avid DIY enthusiasts and keen spring cleaners and it's not surprising when we're all spending so much more time in our homes. It's also meant that many of us have had a lot more rubbish and waste to get rid of. We saw more than a 600% increase in visitors to our website looking for information on their local household waste recycling centres! But maybe you can't easily make a trip to the local 'tip' or you've got some items that are too big or too heavy for you to load up and take them yourself. What then? That's what this article is all about – your options for getting a rubbish removal service to pick up from your house. We've done research on the going rates for these kinds of services too so you can make sure you're not getting ripped off or that the price is too good to be true.
Is it really rubbish?
First things first – are you sure it's definitely rubbish? One person's trash can be another person's treasure so have you thought about donating it to charity, selling it on a site like eBay or offering it up for others on a site like Freegle? Giving your unwanted stuff a new life with a new owner is great for the environment, gives you a nice warm feeling and leaves you better off financially.
If you're sure you have rubbish to get rid of then read on…
Goldilocks and the Three Bins
What does this fairy tale have to do with rubbish removal? Well, just like Goldilocks you want a price that is 'just right'. To help you find that, we've done the leg work for you by checking out what the leading national rubbish removal services charge.
No one wants to pay over the odds for anything do they? Of course, you might be happy to pay a bit more for a more convenient service or for added extras but you don't want to feel ripped off – so you don't want too high a price.

But when it comes to rubbish removal you also don't want to pay too low a price because it means it won't be dealt with properly and legally. There are a lot of unscrupulous people advertising waste removal services in local papers, and online on Facebook, Gumtree and other similar sites, who aren't licensed. Because they're not licensed, they can't actually take it anywhere legitimate once they take it away from your house and anyway that's not their business model. No, what they do is get you to pay them to take it away and then they dump it. They can undercut legitimate operators and maximise their profits as they pass on the cost of properly dealing with it to the taxpayer (mostly) as it's cleaned up by our local authorities or other public sector bodies. Not only does this mean that you're basically paying for this service twice (once direct to the fly tipper and once via your taxes to clear it up) but you could also end up paying a fine if you're found to have used an unlicensed service. So, it may appear cheaper but in reality, it's not.
So What Price is 'Just Right' for Rubbish Removal?
Rubbish removal pricing can be a bit confusing when you're talking about mixed bulky household waste. It can often be calculated by cubic volume, skip size or weight. It can also be heavily caveated (more on that below) so these prices are based on 'normal', non-hazardous, household waste (e.g. stuff you'd clear out your attic, old furniture, broken appliances). There are also a few options in terms of getting this kind of waste taken away and that will affect the price:
You could book a bulky waste collection from your council – these tend to be the cheapest and (sometimes free) legal option, but they aren't often that convenient
You could hire a skip – we have another article on skip hire
You could use a 'man and van' type service – this can be a great option as they do all the heavy lifting for you, tend to be quick and convenient and you have none of the hassle of a skip. They're also the type of service most offered by rogue traders, so you need to be careful to choose a licensed legitimate operator. If they're offering rubbish removal for less than these prices please be wary and be sure to carry out a full check on their credentials. This is a helpful guide to doing checks.
We're focussing on the 'man and van' service in this article due to their growing popularity. We looked at four of the most popular national operators (Acumen, Bagnall and Morris, Clearabee, Skoup). These prices include VAT because as a householder you have to pay the VAT and are unlikely to be able to reclaim it.
1 Yard – From £70 to £90
2 Yards – From £99 to £110
4 Yards – From £150 to £165
7 Yards – From £190 to £220
10 Yards – From £228 to £288
14 Yards – From £248 to £350
No, I'm not sure about how to convert my rubbish into 'yards' either, so here's a handy visual guide from our partner, Acumen.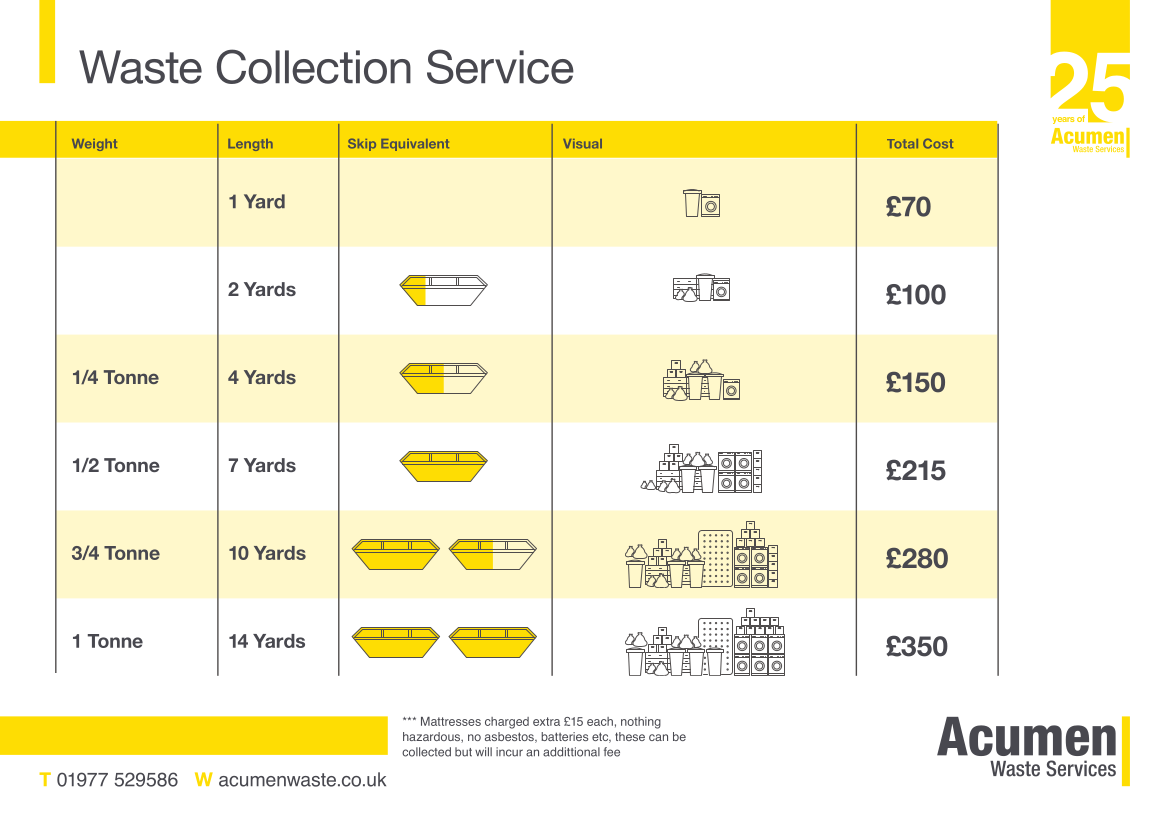 Why are there caveats?
Because people throw away all sorts of things and certain things cost a lot more to dispose of properly than other things. Any waste that's classed as hazardous falls under extra regulations, requires specific paperwork and reporting and specialist handling and disposal. If you're not sure if your waste is hazardous or not check out this article.
We've heard of waste companies finding grenades in household rubbish which led to motorway closures and bomb squad being called! But there are even everyday items which fall under the hazardous category when they become waste for example fridges, batteries, some electronic and electrical equipment, fluorescent tubes, household chemicals (bleach, gloss paint, ammonia, weed killer for example), and, of course, more obvious things like asbestos. When a licensed operator collects items like these from your house, they need to treat them differently and ensure they are disposed of appropriately and there's a cost associated with that beyond the standard waste disposal charges outlined above.
And it's not just hazardous waste types that can cost extra, sometimes a non-hazardous item is just particularly hard to deal with, mattresses are one example, and so they end up costing extra too. We won't get into it now, but this is mostly to do with how recyclable an item is because there's a hefty tax that goes on waste ending up in landfill.
Summary
So in summary:
Are you sure it's waste? If it can be reused by someone else why not give your stuff a new life and save yourself some cash?
If it is waste, your options are take it to the local household waste recycling centre/tip, book a council bulky waste collection, hire a skip, or get a man and van rubbish removal service.
When reviewing prices for a council collection, skip hire and man and van make sure you're in the Goldilocks zone – not too expensive and not too cheap. You might also want to weigh up how much convenience is worth to you.
If you're getting a skip or man and van check they're licensed, get the right paperwork, don't get caught out using a criminal! If the price seems too cheap then remember you'll be paying for it again with your taxes and could get fined.
Every waste service on our Directory is licensed by the Environment Agency, so by using our Directory you're avoiding any unlicensed criminals.
If you can't be bothered to shop around, click here to book a collection with our partner, Acumen.