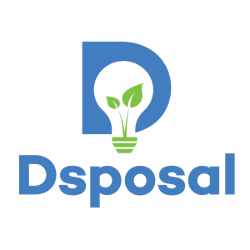 Dsposal was founded in 2016 with a vision to revolutionise the waste industry by using technology to connect waste producers to licensed waste facilities and to simplify compliance.
Our founder, Tom, had spent over 6 years in the industry, knew how interconnected waste streams were but wondered why that interconnectivity didn't translate to the paper trail. He couldn't understand why as a householder you had access to loads of info about what to do with your rubbish, but as a commercial organisation the information assumed a level of understanding and knowledge that was pretty impenetrable. We use technology to address these issues. Dsposal is for 25 year old Tom and all of us that need to find the right place for our waste.
What we've built
An online platform that allows anyone in England to find a licensed waste company, check their duty of care documents quickly and easily and get competitive quotes. You don't need to know the exact correct EWC or LoW code, you can use our Waste Thesaurus of over 40,000 terms to search using everyday English and find the right code. We want Dsposal to be the place where you go when you have any question about waste. And whilst at the moment we're just talking about waste our vision is to facilitate the move towards a circular economy by reframing what we throw out as valuable resources, not just junk.
What we value
Our values are really important to us. They are our 'why', they define how we work as a company and they guide us as individuals.
Because, there is no away.
There is no such thing as throwing waste "away". It goes somewhere.
There is a global waste crisis and this problem isn't going "away" by itself. We're aware of the problem, it's on our watch, we need to take responsibility to solve it.
There is no "away" for us. There is nowhere else for us to go: one planet, one chance.
Resources are limited. Act like it.
Earth's materials are finite; we need to understand that.
Time is a limited resource; don't waste it.
Money is a limited resource; make it work hard.
Our customers, suppliers and colleagues are precious; value them.
Cultivate the compost.
The business we build and the culture we develop must create a nourishing environment that encourages personal, professional and economic growth (but not at the expense of the environment).
A quality compost helps to retain goodness and feeds into a virtuous nutrient cycle. By cultivating a great compost we enable not just ourselves to flourish, but also others in our ecosystem – our colleagues, customers, suppliers and networks.
The act of composting takes 'waste' and turns it into something useful and valuable; always look for ways to add value, be resourceful and see the potential in 'waste'.
Our team
Tom Passmore
CEO and Co-Founder
Tom is responsible for the overall direction and product strategy of Dsposal. He oversees the technical developments, design and user experience of the platform. Tom has a love of tech, a passion for the waste and resources industry and is a self-confessed waste-data geek. A reluctant entrepreneur with a huge drive to solve problems and try to leave the world a bit better than he found it, Tom came up with the idea for Dsposal whilst on a 9-month cycle tour around North America. He prefers the intellectual challenges and security found in an office job over the freedom of a traveller's life, but he still thinks that commuting by bike is the best.
Sophie Walker
COO and Co-Founder
As the chief operating officer Sophie is responsible for the business operations at Dsposal, including overseeing the legal and financial functions, building our culture and heading up customer service. Sophie has been surprised by how much she loves the start-up life and thrives at the edge of her comfort zone. An adventurer at heart, Sophie has swapped the riskiness and uncertainty of long-term cycle touring for the thrill and excitement of setting up your own business. She has a first-class honours degree in Conflict Resolution from The University of Bradford and she now sits on the MBA Industry Advisory Board for the Faculty of Management and Law.
Georgios Rovolis
Full Stack Developer
As the full stack developer Georgios keeps the technology running and builds the functionality to help everybody find the right place for their waste. Georgios is new to the world of waste but has graduated with a masters in cloud computing from Newcastle University.