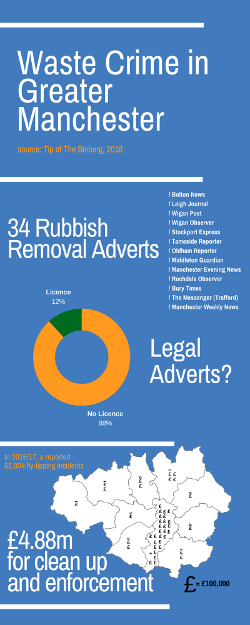 This new report, Tip of The Binberg, commissioned by Dsposal, supported by the GC Business Growth Hub, is authored by Beasley Associates Waste Management Consultants UK and RGR following their study on waste crime in Greater Manchester with a focus on fly-tipping. Fly-tipping is a significant and persistent problem in Greater Manchester, with local authorities reporting nearly 53,000 separate incidents in 2016/17 – 144 incidents for every single day of the year, costing the councils of Greater Manchester nearly £4.9 million in 2016/17 in clearance and enforcement costs. In addition, a conservative average estimate of around £750,000 represents income lost by not recycling these materials and further to this, HMRC loses out on VAT and Income Tax on an element of the estimated £3 million a year generated in cash sales by 'man and a van' operators providing waste clearance services in and around Greater Manchester, many of whom are unlicensed.
Waste Crime
The circumstances in which this persistent but relatively low-level waste crime breeds are encouraged by the prioritisation by the public of low cost and convenience when choosing waste clearance services (as evidenced by the research commissioned from YouGov), rather than compliance with Duty of Care. Awareness of legal obligations on waste is low and confused amongst the general public and this is capitalised upon by unlicensed waste clearance operators who obfuscate even the best-intentioned members of the public trying to 'do the right thing' by dealing with their waste properly and legally.
Greater Manchester's Response to the Binberg
The councils of Greater Manchester are tackling the challenge of fly-tipping and have achieved some success despite the severe restrictions on the resources available to them and the limited effect so far of national campaigns to raise awareness of legal responsibilities on waste for business and householders alike.
To make further headway in tackling fly-tipping requires all those with an interest to collaborate and build on the substantial efforts already being made in the face of an endemic problem. The report offers some broad recommendations for further consideration, including the need to simplify the process by which householders and businesses can verify the legitimacy of rubbish clearance services and waste management companies.
Download the Tip of The Binberg Report
The Tip of the Binberg is available free of charge for registered Dsposal users. Either register or login to download the report: