Dsposal's features allow you to find the right place for your waste and to follow those companies that take your rubbish away.

In this article, you'll learn what you need to get started with Dsposal, and how to sign up for a free account.
Before You Start
Here are some things to know before you begin this process.
Dsposal is a web-based application. While it doesn't require you to install or download software, your web browser needs to meet our requirements.
You'll need to provide an email address that will be associated with the account. We will use this email to communicate with you, so it should be an email address that you have access to.
Your Dsposal email must be unique and cannot be reused.
All accounts start on our free Basic Plan, so you don't need a credit card to sign up. If you choose to purchase add-ons or upgrade to a paid plan, we'll need your credit card information. We can't accept bank transfers, e-checks, or checks from users.
Sign Up for an Account
When you create a Dsposal account, you agree to comply with our Terms of Use, Terms of Service and Privacy Policy.
Below, you'll learn how to create your account.
Navigate to Dsposal's register page and complete the form:
First Name - Minimum two characters
Last Name

 

- Minimum two characters
Email - Must include an @ (ampersand) and a . (full spot)
Confirm Email - Must match email and include 

an @ (ampersand)

 and a . (full spot)

Password - Minimum of 10 characters
Underneath the Password input box is a password strength checker. It will highlight the strength of the password.
Confirm that you agree with the Terms of Service and Privacy Policy.
Click on Create my new account.
Follow the prompts to finish the process and log into your new Dsposal account.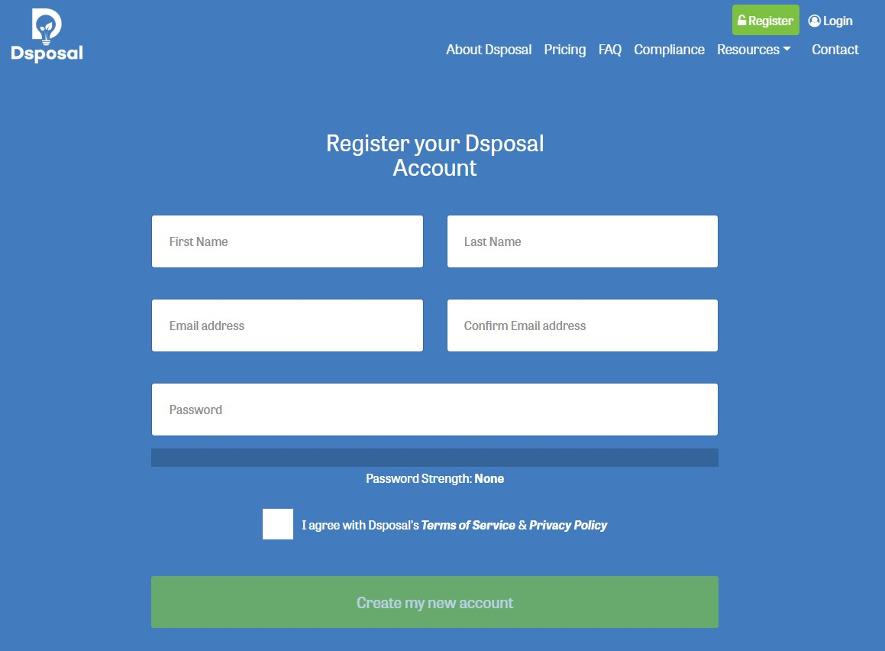 This is how we use your information.
Name
The name associated with your account profile.
Email Address
The email address where we'll contact you. Make sure it is an email address you have access to.